Brief intro to Fairpoint (£FRP): from their own website
(http://www.fairpoint.co.uk/):
---
Fairpoint is a consumer financial services business focused on serving financially stressed consumers. Our mission is 'Making money go further'.
Our business is structured into the following primary business lines in order to serve the needs of this consumer group:
Individual Voluntary Arrangements (IVAs)

Debt Management Plans (DMPs)

Claims Management

---
Reasons to Be Attracted to Fairpoint (LON:FRP)
While you may not approve of the types of debt management services that Fairpoint provide (e.g. there are free debt management services available to indebted individuals), there are a number of solid investment reasons underlying my enthusiasm for this £58m market cap small-cap stock:
Valuation is attractive;
Profitability and cash generation are impressive;
Income return is good in this ZIRP environment with a 5% dividend yield;
Stock price momentum is picking up, breaking resistance levels to the upside;
Acquisition strategy is cautious and sensible, delivering growth at a decent price.
This is all summarised nicely in Fairpoint's UK StockRank: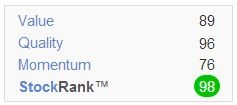 Valuation: Cheap as Chips!
Whichever way you look at it, Fairpoint (LON:FRP) looks good value with a single-digit P/E and 9% free cash flow yield: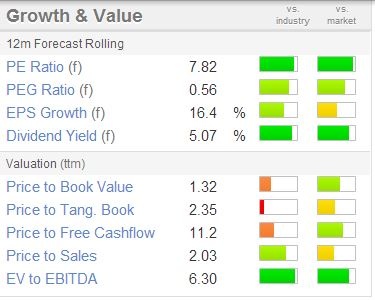 Income: a 5% Yield is not to be sniffed at!
Note not only that Fairpoint (LON:FRP) pays a 5% yield today, but that it is well covered at only a 40% payout ratio; not further that dividends have been steadily increased since they were initiated in 2010.
Growth: Double-Digit Top-Line Growth
Thanks in part to a prudent acquisition of law firm Simpson Millar, paid in part in shares via an earn-out (on targets set for June 2015 and June 2016), top-line growth should be double-digit both this year and next, driving sales from £28.4m at end-2013 to a forecast £36.1m by end-2015.
We can look at profit growth through the lens of the simplest 1-stage Gordon Growth Model, according to which, Fairpoint's internal growth rate is:
This would in turn imply a long-term total return rate at around 12%, including the 5.1% dividend yield. But don't forget, Fairpoint's balance sheet is somewhat inefficient, with a net cash balance of £2.8m, which suggests that the underlying ex-cash ROE is closer to 13%, pushing the internal growth rate beyond 7%.
Profitability and Cash Generation: Very Solid
As the 96 Quality Rank implies, Fairpoint is high quality when running it by the numbers whether looking at profitability or cash flow: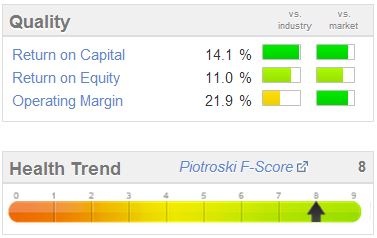 Stock Momentum: Interesting Breakout
Fairpoint is breaking above a key horizontal resistance level of 135p; my first price target is thus 155p, the price gap that opened up on May 20. Beyond that, I am looking to around 231p, last seen in mid-2008 when business was strong (due to the weakening economy).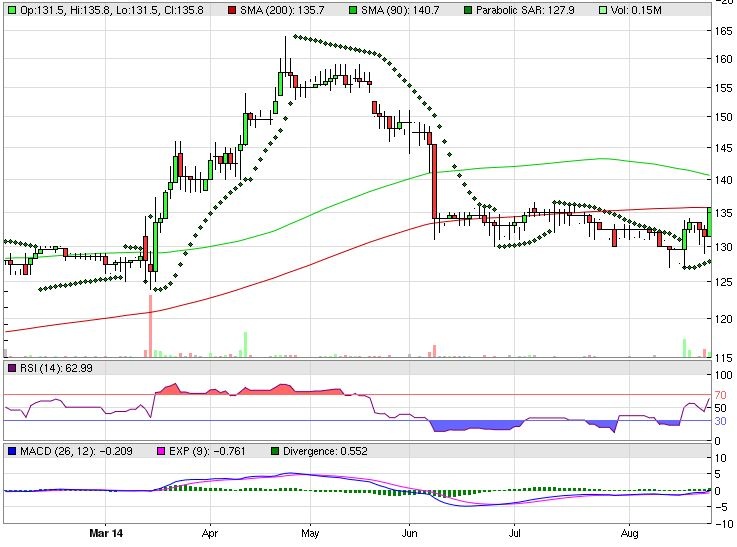 Stock Ownership: Extremely Concentrated Already
Another interesting feature of this stock is that stock ownership is extremely concentrated, making the stock vulnerable to an upwards stock squeeze in the event of any good news:

Three small-cap specialist fund management firms hold nearly 60% of the outstanding shares, including the top-ranked UK small-cap fund manager Gervais Williams at Miton (who runs The Diverse Income Trust plc amongst other funds - in which Fairpoint (LON:FRP) is the third-largest holding at 1.8% of the investment trust).
So any good news could see a big upwards squeeze in the shares in short order!
As always, please Do Your Own Research, however I have hopefully given you some points to chew over!
Disclosure: I hold Fairpoint shares in my SIPP