Okay, since I managed to stir up a little controversy with my look at debt management company Fairpoint (LON:FRP) last time around, I thought I would stick with this theme and look at another controversial company, this time Blinkx (LON:BLNX).
What Does Blinkx Do?
blinkx is an Internet media company that connects consumers and brands through premium content online. Founded in 2004, blinkx pioneered Internet Video Search using its patented COncept Recognition Engine (CORE). This technology leverages speech recognition, text and image analysis to deeply understand the meaning and context of video content to generate improved search relevancy for consumers and a brand safe environment for advertisers. Through its partnerships with hundreds of media companies, including NBC, Conde Nast, Reuters and Bloomberg, blinkx has indexed and search enabled millions of hours of video content. blinkx powers video search, discovery or monetization on thousands of online properties including Lycos, Discovery Networks, CBS and FoxSports. blinkx is headquartered in San Francisco, California with 15 offices worldwide.
Or, in the words of the website itself, it is:
A simple way to discover and share great videos.
Still confused as to what they do? Well, here is a link to a video demonstrating how to use the site:
What Is their Business Model?
London/San Francisco-headquartered Blinkx distributes ad-supported content, but has planted its flag firmly in video search and discovery. So it gets a cut of the advertising revenues.
Why has Blinkx Been Under Attack from Short Sellers?
This article on Bloomberg.com highlights a very critical blog post by a Harvard Business School professor, which triggered the stock's biggest plunge ever.
In the Jan. 28 blog, entitled "The Darker Side of Blinkx", Benjamin Edelman, an associate professor of business administration, said his research indicated that the London-based company used deceptive software to inflate traffic counts and capture commissions. Edelman wrote that he prepared the research for an unnamed client.
At least 5 hedge fund short sellers have subsequently sold Blinkx short: the investment companies are Luxor Capital Group LP, Blau GmbH, Jericho Capital Asset Management LP, Valiant Capital Management LP and Oxford Asset Management LLP, according to European regulatory filings.
July 2 Profit Warning Underlines Problems at Blinkx
To add grist to the short sellers' mill, at the time of their trading statement on July 2, the company then issued a profit warning for H1 2015, highlighting lower-than-expected demand within their Desktop segment (as people increasingly access the internet via mobile devices rather than desktop PCs), hurting both sales and profits with full-year EBITDA some $5m below management's prior expectations.
The two volume spikes at the time of (a) the publication of the critical blog post at the end of January, and then (b) the profit warning at the beginning of July sent Blinkx's shares down from 217p in mid-January to 32p on July 2. By any stretch of the imagination, this made for an impressive return for anyone shorting the shares!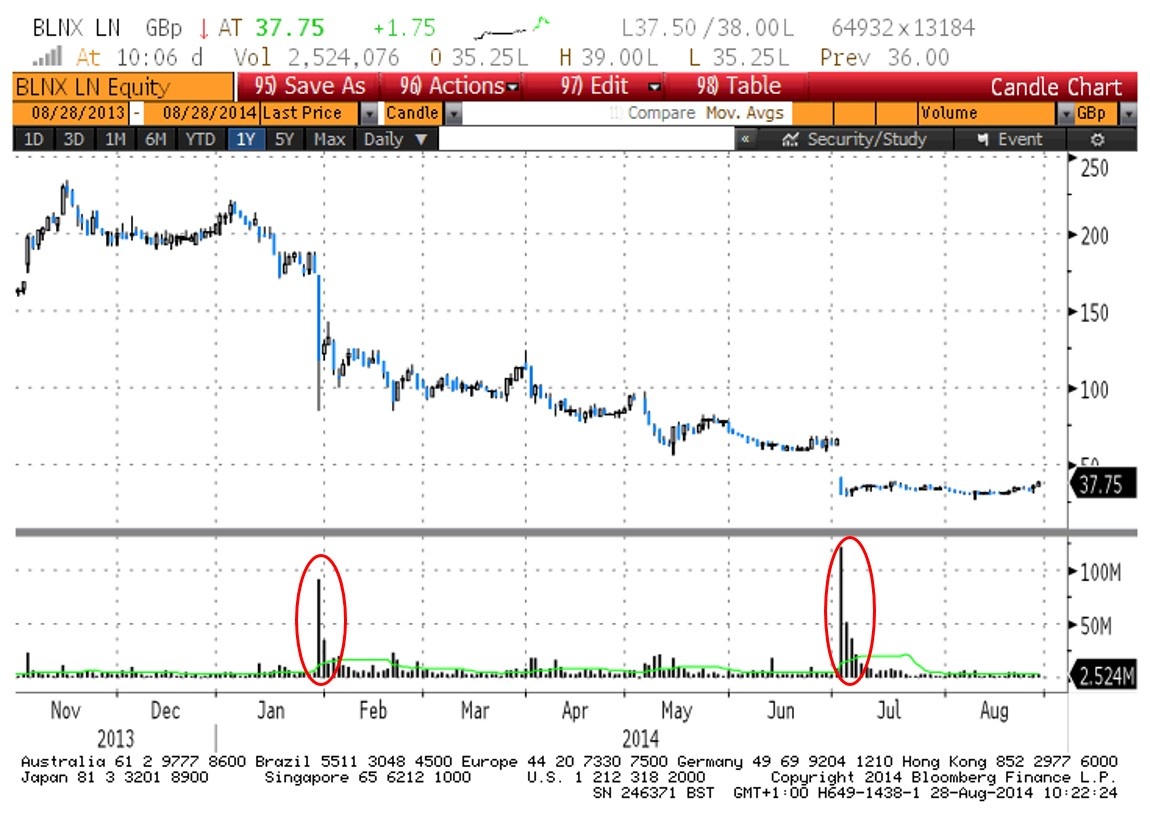 As a result of all this, one of the biggest investment banking cheerleaders for Blinkx, Goldman Sachs, waved the white flag and cut its analyst rating on Blinkx on July 7 from Buy to Neutral. Goldmans had previously led a Blinkx stock placing of 45.68m shares at 120p at the time of their acquisition of Rhythm NewMedia in June 2013...
So Why Bother with Blinkx Now?
1. Valuation Is Appealing
Let's look at some simple valuation metrics: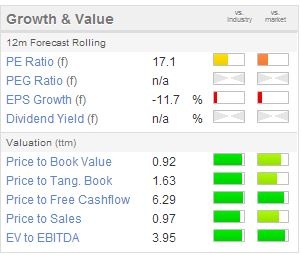 Enterprise Value/Sales is 0.45x for a company that generated a 6.9% operating margin for FY2014:
Note the high net cash element of $126.9m, which highlights the company's solid balance sheet. This seems pretty cheap to me, at least on basic metrics.
Net free cashflow pre-acquisitions, post investments has been pretty solid too, averaging out at over $29m per year over FY2013 and FY2014, giving a free cash flow yield on enterprise value of 26%!
2. Insider Buying: The CEO Bought at 34p
Interestingly, as a show of faith in the company, the CEO Subhransu Mukherjee bought 250,000 shares at 34p immediately after the profit warning, with insiders now owning 2.11% of the company's shares..
3. The Company Now Has Authorisation to Buy Back Shares
Following the July 15 AGM, Blinkx (LON:BLNX) now has authorisation to buy back shares, which would be a better use of some of its net cash position than embarking on more acquisitions... This could at least provide a solid floor for the stock.
4. Change in US-Based Short Positions
According to this latest filing, US-based short positions as of mid-August are down to 5% of what they were at the end of April this year, representing just 0.02% of the outstanding share float.
What is more, major shareholder Blackrock (10.04% of the stock as of July 4) now refuse to lend out their Blinkx shares to short sellers, underlining their commitment to the stock.
- OTC Short Positions on 2014/08/15 76,540 -2,315 0.52
Net Total Last Total Price Date Change Shorted Price Volume Range
2014/08/15 -2,315 76,540 0.52 49,200 0.50 - 0.59
2014/07/31 4,124 78,855 0.57 47,700 0.56 - 0.66
2014/07/15 2,025 74,731 0.63 576,600 0.53 - 1.10
2014/06/30 -838 72,706 1.07 98,100 1.00 - 1.15
2014/06/13 -1,900 73,544 - 46,700 1.06 - 1.19
2014/05/30 -136,672 75,444 - 30,500 1.24 - 1.37
2014/05/15 -1,272,791 212,116 1.24 178,000 1.08 - 1.62
2014/04/30 -516,692 1,484,907 1.48 56,800 1.35 - 1.48
* - Indicates that the closing price used is the last non-zero closing price and is not the closing price on the report date.
Summary: Still Very Risky, But Potentially Interesting Upside...
In short, blinkx has been the subject of a concerted short selling attack, has not helped itself by then following this with a profit warning, but now resides at an extremely attractive valuation level, IF you believe in the business model. Not a stock to put your granny's life savings into, certainly, but perhaps one worthy of consideration for a modest long position.
I personally am looking for an initial price target at around 50p. But more than ever with this stock, Do Your Own Research!
Disclosure: I have bought some Blinkx (LON:BLNX) shares in my NISA.
- See more at:

http://www.stockopedia.com/content/blinkx-and-you-may-miss-the-rebound-85674/#sthash.Jv4Yg0rP.dpuf